Everybody deserves great pulled pork, but most of us don't have smokers. This outrageously good pulled pork is as simple as rub and toss it in the oven for great low and slow goodness.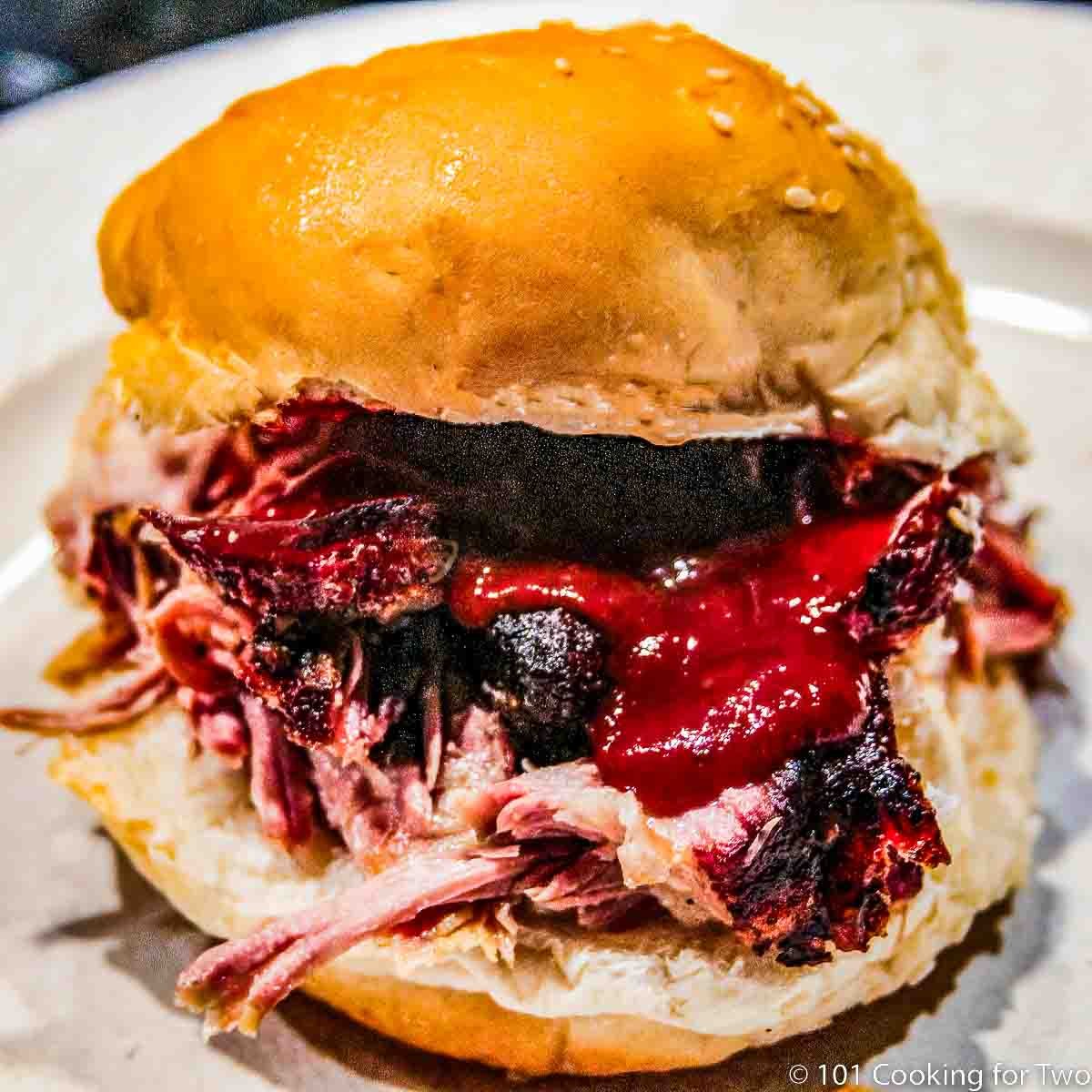 Introduction
This is the pork butt recipe that we use most frequently. Please enjoy one of our personal favorites.
As usual, I had done a lot of research to create this oven pulled pork recipe. I was so confused after about 25 recipes. There was the aluminum foil covering most recipes; there were onions and various veggies. Just wrong!
There were a few with oven temps of 225° and 250° but also a lot of 350 °recommendations. There were finish temps of 170° on most of the recipes. And pork being cut with knives. IT IS PULLED PORK!!!!! ...... ARGGGGG.
My Rating

Ok, a lower 5 only to leave room for grilled pulled pork as a higher 5. But so good without the fuss, I have repeated this many times.
🐖Pork Butt AKA Boston Butt or Pork Shoulder
Like many cuts of meat, there are multiple names about the same thing. Pork butt, Boston butt, and Pork shoulder are the same in common usage.
Pork shoulder is the thinner area of this cut but is commonly cooked and used the same as the butt. It has a bit less marbling and less fat and is usually not separated from the butt. But usually, the term pork shoulder is used interchangeably with pork butt and Boston butt.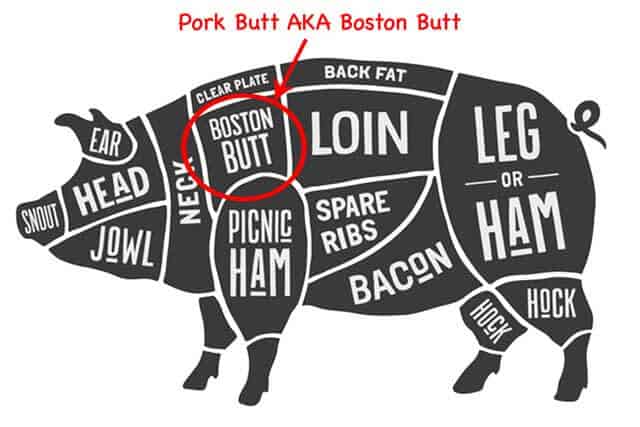 If you are wondering, butt means thick, so that is why the term "butt" is used. Lastly, the picnic ham and picnic shoulder are not the same as this cut.
Bone-in vs. Boneless Pork Butt
Bone-in pork butt will take a bit longer to cook, but not much. Some will argue a taste difference one way or the other. Nope, no difference to me (or most people) in the taste. So use what you have.
But, it does feel so good when you go to shred the pulled pork, and the bone just lifts out. I always smile.
♨️Method
Smokers and grillers will all agree on low and slow. You do not turn up the temp. You need time for the connective tissues and fats to melt into their goodness. 250 degrees is a good target temp for a grill and is so easy in an oven.
In an oven, smoke was not an easy option, but some smoke taste is needed. Enter liquid smoke. I just give it a good rub of liquid smoke. Alternatively, you can make a rub with spices like smoked paprika.
Otherwise, We treat it like it was on the grill, using the same rub and cook to 195 plus.
The house smelled great all day long.
Fat Pad Up or Down?
The big debate for many years, fat pad up or down. So, I will use the competition smokers for my reference.
While a few will still argue strongly one way or the other, most think it does not matter. I agree.
⏰🌡️Time and Temperature
Oven temperature can be anywhere from 225° to 275°. But 250° is what you should usually use. No convectio0n is needed. I feel 300 is too high generally.
How Long to Cook?
It seems always to be at least 2 hours per pound plus a little some times. So 2 hours per pound at 250 degrees is a good starting point on timing.
Others seem to like to say one hour per pound. But then you see them cutting it with a knife. Doesn't work for me.
I usually cook about 4 pounds, and it takes 8-9 hours. Remember that bone-in takes a bit longer. You MUST check the internal temperature. The minimum is 190, but it is low to me. I like mine 200 plus. Do not remove early, or you will be sorry.
The rest before the shred could be as short as 30 minutes, but longer is better. It will stay warm with my method for about 4 hours. Shred just before serving, so this gives you a 3 ½ hour window to hit.
When is Pork Butt Done?
I like to take my pork butt to 195°+ range and prefer 200°-205°.
♨️Reheating and Storage
I like to reheat on a sheet pan, I sprinkle with a little water on my hand (don't overdo it). Cover tightly with foil and into the oven at 250°-300° until hot.
The time varies by how you shredded it and the amount on the tray. Usually, I take about 45 minutes or so in the oven for me. I know that is not very exact, but you get the idea.
You can then turn the oven down (keep it covered) or transfer to a crockpot on low to keep warm.
Never reheat or store with sauce applied -the acid will destroy the texture.
Storage
Good refrigerated for 3-4 days, but I prefer 2 days since the texture seems to suffer. It will freeze well for 3-4 months.
Many will freeze pulled pork in reheatable sealed bags; Then they will reheat those in boiling water.
📖Pulled Pork Recipes
Pulled Pork on a Gas Grill – Not That Hard Don't be intimidated, it really is not that hard, just follow the photos.
Crock Pot Pulled Pork from Butt the Right Way Yup, I have totally sold out, but done the right way, you can get great pulled pork from a crock pot.
Memphis Barbecue Sauce - A Wonderful Thing

🖼️Step-by-Step Instructions
You will need a rub of your choice and some Liquid Smoke. If using my rub, mix ½ cup dark brown sugar, 2 tablespoons kosher salt, 1 tablespoon chili powder, 1 teaspoon garlic powder, 1 teaspoon onion powder, and 1 teaspoon pepper.
Place a 4 pound (give or take a little) bone-in (or boneless) pork butt on a large piece of plastic wrap if wrapping. Rub with about 2 tablespoons of liquid smoke (optional).
Use about one cup of rub and coat the meat. That is a very heavy coat.
If you have time, wrap the meat with plastic wrap. You may need a second piece. Refrigerate for a few hours, but overnight is fine. If you don't have time, just apply the rub and pop it in the oven. This is what I usually do.
When ready to cook, prep a large rimmed baking sheet with foil and a rack. Give it a heavy spray of PAM.
Place meat on rack and place in a 250°oven (not convection). I did not bother to preheat. I went with fat cap down. You can shorten the time some by increasing the temperature of the oven to 300°, but I suggest 250°.
Bake until internal temp of 195° plus (200°-205° is better). About 9 hours for me, usually. This will vary some with the thickness of the meat, bone-in vs. boneless, and the oven. You have some flex time in the next step to get your timing right.
Remove from the oven directly onto a large sheet of heavy-duty foil. Wrap tight with the foil then wrap with several towels. Place wrapped meat in a small cooler if available and rest for 1-2 hours until needed. It can stay warm for up to 4 hours is well wrapped in a cooler.
Shred with forks. It will fall apart.


Do you want more recipes from 101 Cooking for Two? Sign up for the newsletter and get all posts delivered straight to your inbox!
📖 Recipe
Editor's note: Originally Published November 2, 2013. Updated with expanded options, refreshed photos, and a table of contents to help navigation.