An easy grilling that will leave them raving. Good for a weekend family or company lunch or a weeknight. Just follow these easy step by step photo instructions.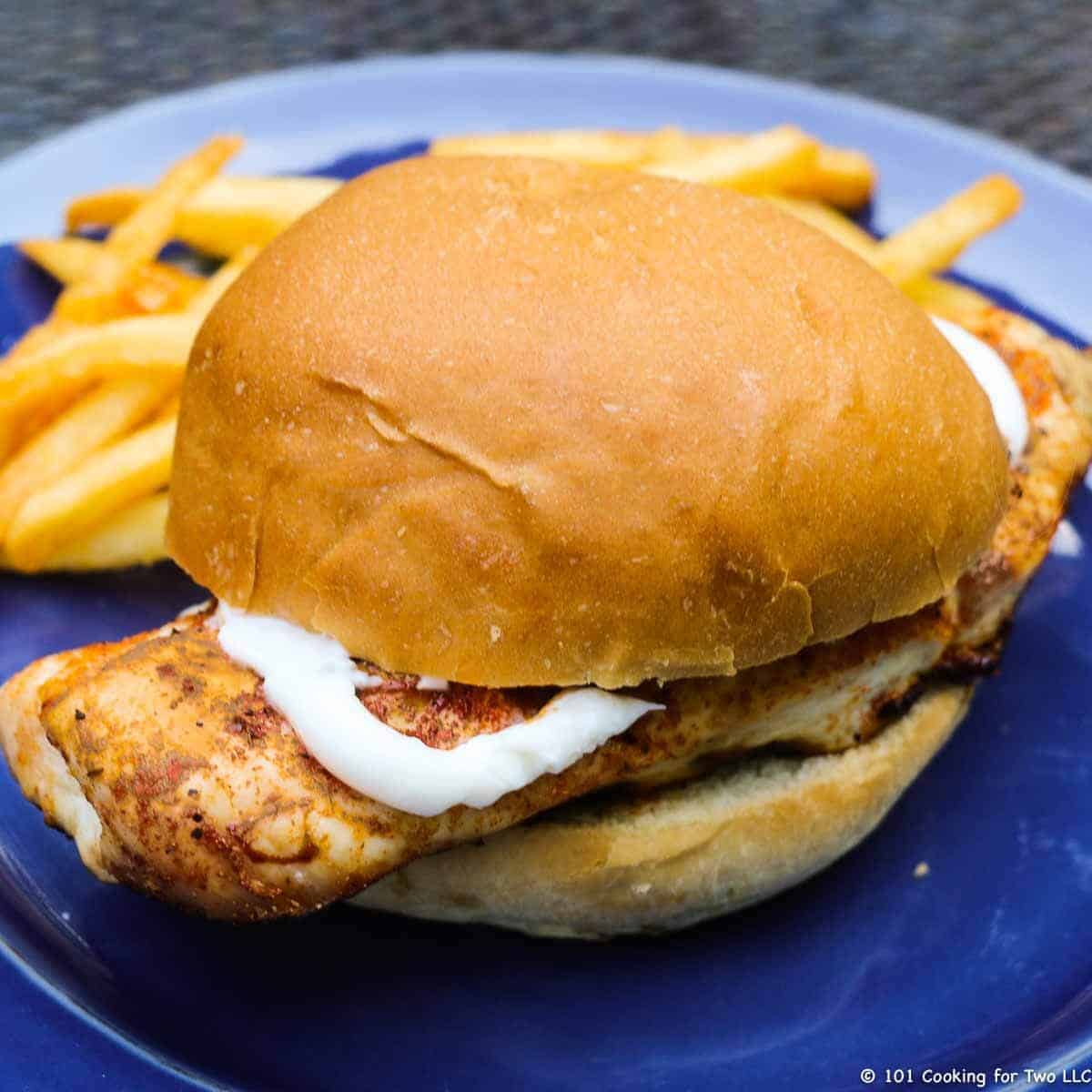 Introduction
Here is a secret here that many already know. The secret is to grill skinless boneless chicken breasts well is thinner uniform pieces.
That is not what you get at your local supermarket. Those suckers can be huge and thick. You can't cook it well, and it won't do in a sandwich.
My Rating

This will be the go-to recipe for Saturday lunches.
🐓The Chicken
These are just a weekend family chicken sandwich recipe. I use skinless boneless chicken breasts but skinless boneless thighs would work, also. If you use thighs, cook to an internal temperature of 180.
Of course, trimmed and patted dry. See Chicken: To Rinse or Not To Rinse? for a detailed discussion about not rinsing.
The size will determine what you do with them.
If about 8 ounces, then a little flatten with a meat mallet is enough, just even out the thickness some.
If bigger, the filet into cutlets as I show below. They will be a little thinner and cook faster.
♨️The Grill
The grill surface temperature needs to be about 450 give or take a little. That is about medium or a bit more on most gas grills. See A Beginners Guide to Grill Temperature on a Gas Grill if you need help with this.
A little under is ok, but a lot over is not and will make hockey pucks.
👨‍🍳The Seasoning
Just salt and pepper is fine if that is what you want. I usually use my All Purpose Seasoning: 7:2:1 and 7:2:2. Sometimes I use Homemade Blackened Seasoning (see picture above.) Or use the seasoning your family enjoys.
🧂Brining
While it is always good to brine chicken for moisture, this is a quick recipes and I don't bother. If you do, then do not add more salt during the seasoning.
📖Grilled Chicken Recipes
How to Grill Chicken Breasts on a Gas Grill
Grilled Chicken Drumsticks – The Art of Drummies

🖼️Step-by-Step Instructions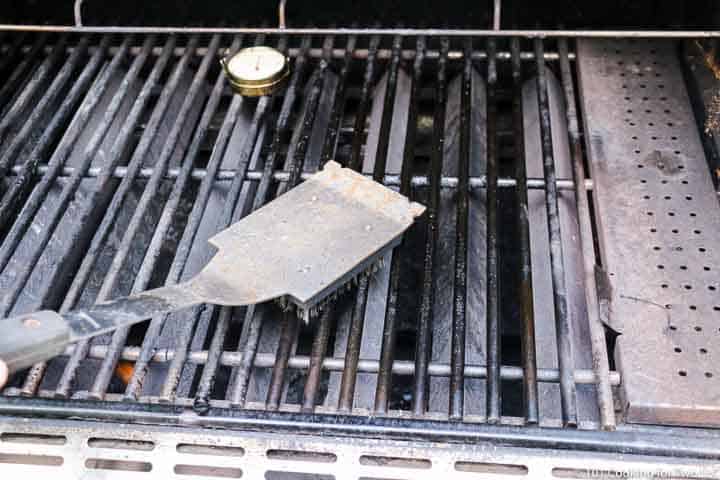 Clean, oil, and preheat grill to about 450° surface temperature.
Pat dry chick breast. Trim off any fat and bone. Cut any huge chicken breasts into fillets. A smaller breast can be evened out in thickness with a meat mallet.
Season to your taste. Just salt and pepper is fine. I use my 7:2:2 seasoning and some times my Homemade Blackened Seasoning.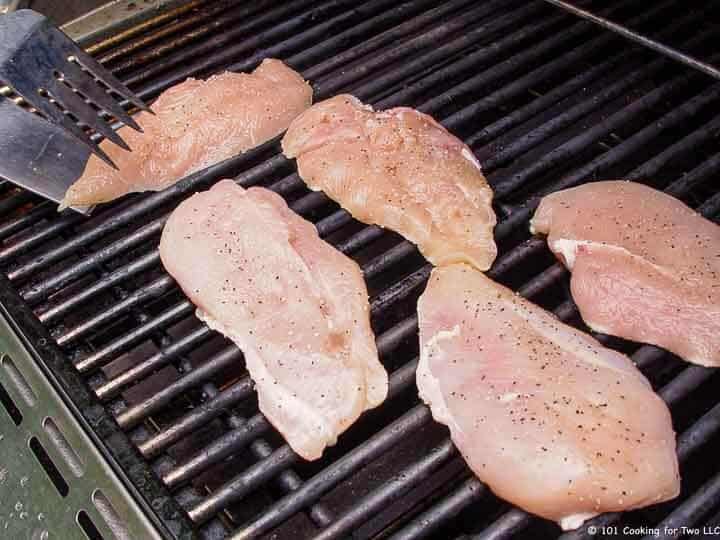 Place over direct heat on the preheated grill with 450° surface temperature.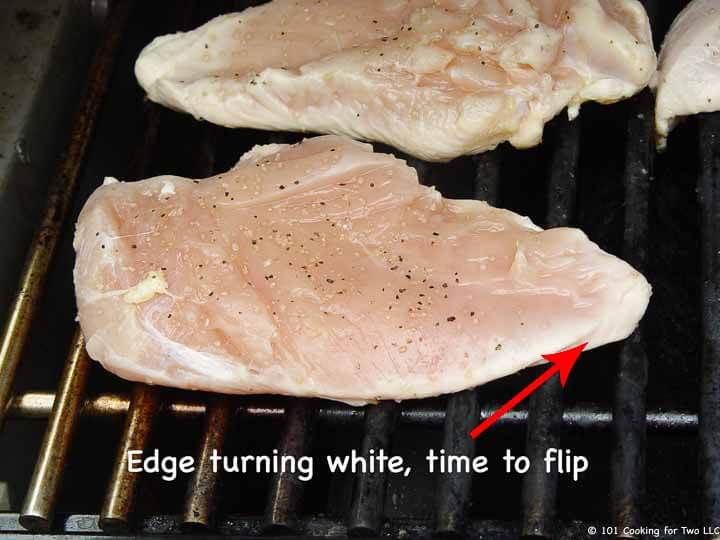 After about 4-5 minutes, flip the chicken. See the edged turning white. That is your clue that it is time to turn the chicken. Flip every 4-5 minutes.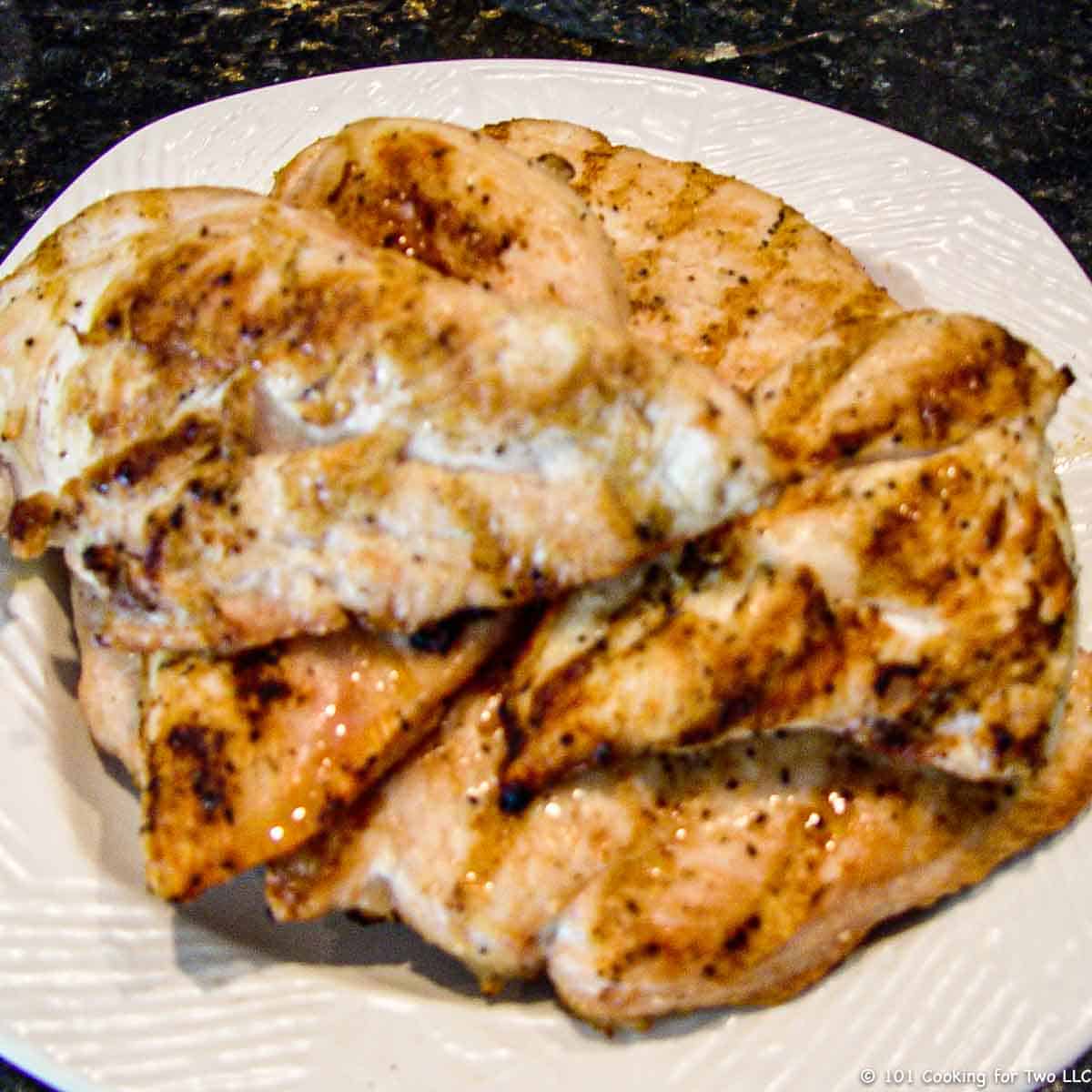 Cook until an internal temp of 165°. The thinnest breasts were done in 12 minutes. Most in 15 and the thickest whole breast about 20 minutes. COOKING TIME WILL VARY.


Do you want more recipes from 101 Cooking for Two? Sign up for the newsletter and get all posts delivered straight to your inbox!
📖 Recipe
Originally published September 5, 2011. Updated with expanded options, refreshed photos, and a table of contents to help navigation.